pxppurple rice - testimonials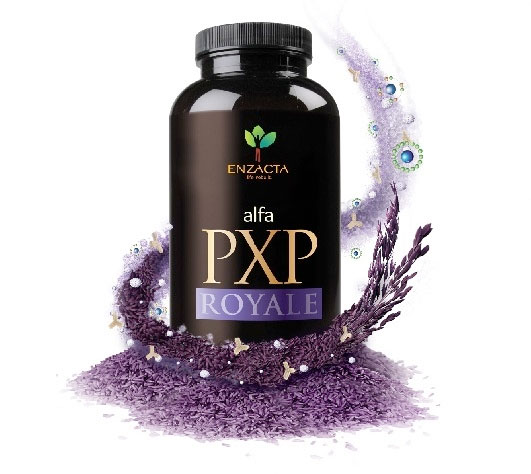 One month of PXP Royale today. Here is what has happened so far. Blood pressure meds gone after 45 years of taking them. Sleeping about 7 hours per night Without waking (this is huge for someone that has always been a 5 hour per night sleeper). Skin tone changing especially in the "turkey neck" area. Eyebrows coming back darker. Autoimmune skin condition I have had for 20 years has started to clear up. Way more energy. Some of the aches and pains are gone (if I keep my diet alkaline they are all gone but that doesn't happen every day). Cravings for carbs are gone. My eyesight is improving-I have gone back to an old pair of glasses that are a weaker prescription)
My husband has also experienced some changes in energy, knee pain gone in one leg and he has hair coming in on his bald spot. This is just one month I get really excited when I think of what will happen after a year
Karen Brewer
I got my 15 year old son who has type 1 diabetes to try it on the Sunday and by Thursday his insulin requirements had all but halved. Some of the things I have experienced are - a 5 hour hike with my kids, usually I would be the one puffing and panting but no I could have walked for hours more. The next morning it was an hour before I realized that I didn't hurt anywhere, my feet were not even sore! I burnt my finger on an oven around 11am the burn had visibly gone through 3 layers of skin. By 7pm at night it had completely healed, no redness or pain - just a dried top layer of skin. My hair and skin and nails have all visibly improved in just a few weeks and my digestion is also better. I have energy and stamina and feel the best I have ever felt in my life;
"I am posting for my mom...She started her Purple Rice journey on Sunday a.m. and called me today, all excited...Said she couldn't wait to tell me this...She said...(and I quote)...'I've got a burst of energy that is just amazing! I've cleaned my bathroom, cleaned the kitchen, changed and laundered my sheets and another load of clothes. Folded and put them all away. Picked up some limbs out of the yard...and taken out the recycling! I have not felt this good in *I Don't Know When*!' "
"That was by lunch time! Mom is well into her 70's and as you know, we recently lost dad...(her sweetheart of almost 60 years); so she has been slowly doing 'all the stuff' that goes along with that! She took care of him at home for the past 3 years; and had the master bedroom transformed for his hospital bed, chair, supplies, etc. (Oh how I wish I'd known about the rice before his illness!)
Cynthia Calhoun
Our trial of PXP went so well I ended up joining as both Chris & I don't want to stop taking it ever. There has been a break between our trial and receiving our 1st delivery which has proven to us it really is doing magical things. Whilst not taking it we both had the issues return. We had only trialled it for 2wks
Chris had a natural energy and no joint pain. His aches and pains in his knees from footy injuries years ago went away. Before taking it he had been calling it 'snake oil' and was stirring me about wanting to try it. He is now sold and wants to take it every day
My stiffness and joint pain disappeared. My piriformis syndrome settled and I had no longer had the pain associated with it. My sleep was much better. The best bit was my anxiety was almost non-existent and I felt happier than I had in years!
I am so glad I tried this stuff. It truly is amazing. I look forward to seeing what else improves now I have my delivery.
Getting up from a laying or sitting position is easier than it has been for years - since I injured my back at Crazy's. Joints are no longer giving me grief & I stand with ease. Yes I am either detoxing or have caught a bug from my lovely son (he has been crook for a week now) however it really is only my throat. I have none of the typical cold/flu symptoms. I am no longer feeling as anxious which is a huge thing for me as today we have a rent inspection and normally my anxiety is through the roof. I have more energy and focus to get things done. It is no longer difficult to work out where to start. I just do it.
Chris has been gardening pretty solidly for a couple of days. When he woke this morning said its really weird as normally his knees and hands are killing from gardening so much. Instead he has some muscle fatigue but no joint pain. He also says he has so much more energy. Fyi Chris was very skeptical of this stuff and was calling it snake oil but has admitted he is feeling better & wants to keep taking it
Helen Back
I started my son on PXP purple rice just over a month ago. He has ADHD and we were having trouble with focus and behaviour. His teacher was finding it hard keeping him on track also, so much so we started a journal that was sent between home and school so we both knew what was happening, as i couldn't go into school every day. After 1-2 weeks of taking the purple rice I was getting lots of positive comments like he was a "joy to teach today" "Focused all day" Not things I thought I ever would hear! He has been a lot calmer at home and a lovely little boy to be around. Thank you PXP Royale.
I took my measurements not long after starting pxp and although I haven't weighed myself yet I have remeasured two weeks later and I've lost... 2 cms on hips5 cms on waist2 cms on arms3.5 cms on legs
And that is no dieting. My cravings for sugar have lessened so I have eaten less sugary foods and hardly any carbs as I feel bloated just looking at them lol. I have alot more energy so doing more too. I'm not trying to lose weight per say but I'm not complaining as I'm a bit of a chunky dunky.
A few weeks later.... Week 4 on pxp for me! I still have great energy throughout the day, very little to no back, shoulder, neck pain. So nice. Changes are still happening everyday that I'm really enjoying observing. My cracked heels are just about healed right round. They are normally deep cracks. I am craving healthy food and have barely wanted anything sugary. My body shape is changing!! ( I've yet to weigh myself but I think I'm losing a little weight!!!) The coolest thing so far though that I have discovered is I can remember phone numbers and numbers/addresses of jobs etc..... I have had chemo brain fog for ages and was quite sad I had lost the ability to remember/recall numbers or info I've just read. All small changes for some but very exciting for me. Yay for PXP!
"HERE IS MY TESTIMONIAL FROM MY 7-DAY OBSERVATIONS" OK, so…this is day 7 on PXP Royale. I went through a couple days of detox flu-like symptoms [which I was prepared for] and today I have so-o-o-o much energy again-which happened within the 1st 24 hours!1. Awesome, wholesome, non-jittery energy…I went to sleep really late last night, probably around 2:30, and I woke up this morning around 5:30ish, feeling great…no alarm. I've been out, busy, and engaged all day and I'm still not tired; but here are some amazing, amazing things...2. I have been battling elevated blood pressure from a pulmonary embolism in 2007. Then weight gain from the meds that were prescribed for the blood pressure; which has also caused my ankles and feet to swell.
Now...normally by this time of the day, my feet begin to feel tight and tingly. I just noticed that I didn't feel that, so I looked down and realized they are not swollen! Keep in mind this has been a constant issue for the past several years.3. Another thing...I had a severe auto accident years ago, that left me with a back injury. I was told that my options were surgery on my spine or fight pain for the rest of my life..."talk about pick your poison"! Well I opted against the surgery, so I've fought debilitating back pain ever since…1996, to be exact.
The older I get, the worse pain I seem to have. I normally wake up very stiff and sore in my lower back and body, and I've come to expect that. I do some stretching or use my inversion table, and by 10 or so, it's better; but I noticed this morning that I felt neither stiff nor sore! Since 1996 I've been under constant chiropractic care just to deal with the pain…but all of a sudden, after all these years, my back gets some relief; and nothing [not even chiropractic care] has been this quick and effective. Ive had days that I could be simply walking across the room, and with no warning, my back decides its not going to 'work' that day, and at that point, my sciatic nerve is pinched, my legs won't go, and Im literally crawling across the floor to my bed, and would sometimes be there for days.
I kid you not, if I hadn't experienced this myself, I'm not sure I would believe it! Thank God, these aren't life threatening issues; but they have been chronic and significant for a long, long time. I admit that based on others testimonials, I expected these type of results at some point…eventually, but I never imagined I would experience this much change in just 7 days. This is nothing short of miraculous! PXP is Truly, Truly Ah-Ma-Zing!!!"
Cynthia Calhou
I would like to also add my testimonial to PXP ROYAL. After taking 1 teaspoon per day for a month I have noticed a significant change in my asthma. I have just been to my Doctor who was very impressed, my chest is clear. Thank you so much.
Diane Bennie
I have been taking PXP for nearly a month. I am feeling brighter since being on it. Getting out of bed at 5.30 each morning is easier and I feel that I cope better. My diabetes has also showed some improvement. I have done a fasting test each morning. They have gone from readings around 12.5 down to readings in the 8.6 area. It took about 2 to 3 weeks to start impacting my readings. It is still early days. Will keep you posted on progress.
Leonie Munns.
Hi Everyone! My name is Kelly and I've been taking PXP purple rice for two weeks and wanted to give a brief testimonial. I've been diagnosed with Rhematoid Arthritis and over a month ago I had a flare-up that left me pretty much bedridden and barely walking on a walker as my knees are the main culprit with this disease. I was feeling very sick and high on painkillers. About three days after starting the PXP I stopped taking my pain meds. The swelling in my ankles have diminished, I have way more energy as before I was taking at least one nap a day. The pain in my knees have dismissed at least 30% and it gets less and less everyday. I'm still on the walker but have been able to take a few steps without holding on( very exciting). I look forward to what life might be like in 3 months. So grateful I "stumbled" upon PXP when I did. I now have been recommending this product to friends who are suffering with various dis-ease in their bodies.Thank you for your loving demeanor and wanting to help as many people as possible.
Kelly Quinnine
I am 52 years old and I have something called Transverse Myelitis which is a neuro-immune disorder causing inflammation in the spinal cord. Attacks of inflammation can damage or destroy myelin, the insulation around the nerve cell fibres. This damage causes nervous system scars that interrupt communications between the nerves in the spinal cord and the rest of the body. Symptoms include a loss of spinal cord function. It can start with lower back pain, muscle weakness, or abnormal sensations in the toes and feet and can rapidly progress to more severe symptoms, including paralysis, urinary retention, and loss of bowel control.
In my case I had a shoulder injury originally and it progressed to an infection which shut down my spinal and nervous systems. I became paralysed in the bottom half of my body, could not feel anything from the waist down and had to use a wheel chair. There are 10% of people in New Zealand which have this condition and only 3% regain their functionality.
For the past six years I have worked hard to get back a lot of my lower feeling and recover partial functionality which enables me to walk with a limp, drive my car, run my home, do my gardens and all the other things life has given me. However, during this time the pain has been acute throughout my body.
About six months ago I was given a chance to try PXP Royale and it has done wonders for the pain. I am no longer in acute pain – it has taken away the pain in my back and shoulders and lessened the pain in my knees and feet. And without the intense pain, my movements are freer and stronger. I have not needed to take pain killers or even panadol for the last four months.
I am much happier within myself – before I took PXP I was getting very frustrated with myself as I wasn't used to sitting around doing nothing, having previously been very active. PXP has helped me more than I can say in all ways. I am more relaxed and at ease since I've been on it.
I truly believe PXP has done wonders for me and will definitely stay on it. I am truly appreciative. Thank you PXP.
Glo Reihana Upper Hutt, New Zealand
I have been on pxp for two weeks and already I have an abundance of energy, feel so happy on the inside, calm and I have no aches and pains. All my muscles have loosened back up again and I can physically do a lot more. I'm also not craving sweet foods, NOT EVEN CHOCOLATE! I'm also not having panic attacks and I haven't had a silent migraine for two weeks. I really feel long term this product is going to have some amazing improvements on my health.
Tracey Gibb
In February this year I met up for a coffee with a lovely friend. I was telling her how menopause was driving me nuts and she talked me into trying this product that was 'fantastic'! Now ... I am a Clinical Hypnotherapist so I work with the mind and use amazing relaxation techniques on myself - but I also know the body needs to be in balance as well - hormonally and chemically. So I bought a bottle.
The day I started on PXP an old tooth abscess had flared up, causing a golf ball sized lump in my jaw, pain in my ear, and a wicked sore throat - I could hardly swallow. Being the 'anti mainstream medicine person' that I am, I decided to pump this stuff into me. I took 3-4 tsp a day and within four days the lump had gone and the throat was clear! Hmmm, something must be working.......
As for me and the dreaded menopause ....... well, I can safely say this. I am now much more' chilled out' and don't feel like I want to destroy anybody who annoys me! Instead of waking at night and feeling fractious - I now wake up, look at the clock and go back to sleep straight away. On top of these already awesome changes I have also noticed that my mild 'gluten intolerance' has changed, and bowel and digestive problems have gone away - no more horrible bloating!
I had a feeling this product would be good and Enzacta is an amazing company, perhaps because I liked and trusted Robynne - and perhaps because my intuition told me to get involved. I am now passionate about growing the business so that me and my family can stay on the product, but also so I can share it with others to help with their health and wellbeing. In fact, I believe in the product so much that I am introducing it into my Hypnotherapy Clinic so that I am helping people with their mind, and their body!
Alfa PXP Royale : BRILLIANT !! Has really increased my energy levels. I'm so happy about that alone! Up in the morning and take it first thing. I've been taking it for 2 months now. My energy has improved & my overall wellbeing. I know it is doing great things. I believe my sight has improved. I have had a very annoying ear eczema, which after many years of drops and creams is finally healing and almost gone. My hair and skin have improved. My back feels much stronger. Doesn't click and crunch like before. I feel really healthy and so blessed to know about PXP.
A little history: I had a serious illness in 2001 ( a virus and sepsis at the same time) which made me loose an extreme amount of weight, hair falling out in clumps, pain in legs ,chest infection ,unable to eat, vomited for 3 months. I was left with chronic fatigue. Then I needed a hysterectomy as fibroids were interfering with circulation and evacuation .Two weeks after that back in hospital to remove a breast lump. I climbed my way back to health day by day. I couldn't work. Mid 2006 I joined St John to train to become an ambulance officer. 2011 I injured my lower back and herniated 4 discs. I made a slow recovery without the aid of orthodox medicine or intervention, and by using nutritional supplements and alternative therapies and positive affirmations.
I wish I had known about PXP. I believe by telling people about PXP I can make a difference in people's lives. I know of people who are getting very positive results from PXP. My sister who is diabetic can feel her toes again! If you are reading this, give it a go ......... it could make a world of difference to you or a loved one.
Kind Regards Anna-Marie Holmes, Waihi, NZ
"I completed my first month taking PXP Royale with fantastic results not excluding weight loss and energy. People are noticing that my skin has a glow and the circles under my eyes have faded. No longer taking anything to help me sleep and the severe neuropathy that was not being managed with two different medications is barely noticeable at night which helps me sleep better. Also those pesky grey hairs in my eyebrows and growing on my chin and upper lip have almost entirely disappeared. Knee pain is decreasing and no longer requires daily doses of arthritis pain med. All this in just 4 weeks!!! Can't wait to see what else is going to happen."
Nurse Linda Donohue
I have had some tremendous healing myself since eating the PXP Purple Rice. I have been wearing bifocal glasses for 6 years now. My vision has progressively been getting worse. For several years now my eyes had constantly felt like I had a piece of debris in them and I was constantly picking at them. For at least the last 2 years my eyes have been excruciatingly painful round the clock. It felt like I had prickers in my eyes and they felt like they were burning all the time, (no matter what kind of eye drops or eye ointment I put in them). Also, my vision was getting darker and darker. Since taking PXP (I have been taking this for over 3 months now), my eyes are no longer painful! I sometimes have a bit of discomfort, but, when I am experiencing discomfort I take a large teaspoon of PXP in water, slug it down, and the discomfort dissipates and goes away over the course of a half an hour. Also, without my glasses on, I can look at my gmail on my cell phone and make out the heading of each email. Prior to taking PXP, I couldn't make out the heading at all. It was just completely blurry. This micronised purple rice miracle is restoring my vision. I had been terrified that I was going to go blind. I am eternally grateful that my vision is being restored. My vision is no longer getting darker either!".
Patricia Curtis RN
Amazing!
My grandfather was on his death bed with no hope from the doctors. We took him to get a second opinion and this doctor gave him Enzacta Alfa PXP Royale and it was a miracle. Within two weeks he was not only up and healthy, he was more active and more energetic. I'm buying it for everyone in my family.
Leticia Marquez from Texas. WOW! Nothing like it!
©
I'm 49 years old. I was so tired when I got home I couldn't work out, and would fall to sleep at 8:00pm, get up at 10:00pm, pull myself off of the sofa and plop in bed. I left the Alfa pxp Royale sitting in the cabinet, thinking..."forbidden rice?", "what the heck is that? I took the stuff out, and mixed it in with my daily concoction of vitamins, whey protein, etc. that I take in hopes of working out (I just rarely ever got there). I took one teaspoon full of this stuff, (Thursday) and worked out, completing a heavier workout and, after work. Skipped Friday, but took a teaspoon. The next day, Saturday, I took the recommended 3 teaspoonful's that day, and worked out in the morning, first with the treadmill (I never do both treadmill and weights anymore) then with weights, then went on a bicycle ride-road bike-much further than normal. Then comes Sunday...I do the same thing, only I worked out my legs, had plenty of energy all day, both days, and gave some to my wife-who was sick with the flu. She got energy that lasted through the afternoon. No shakes, no side-effects detected, just consistent energy. I write this because I've literally tried everything, except those awful caffeine energy drinks, this was the only thing that has worked so far. I feel like I felt 6 years ago-this is great!
T. Jones from California.
Having Crohn's Disease for the last years of my life has been one struggle after another. I have tried many "miracle" products that were supposed to help with diseases only to have my hopes turn into disappointments. This past year I had a very serious scare with one of the medications I was taking. I honestly saw my life flash before my eyes. I was on a medication that suppressed my immune system, a chemotherapy type drug. This medication is also used for certain leukemia's. To make a long story short, your body needs two enzymes to break this medication down in your body. I was one of the rare cases that only have one of those enzymes. The medication was slowly poisoning my body as it was not getting fully excreted. I started out feeling sick to my stomach here and there. Every week my symptoms increased. Then I started severely vomiting every couple of days and would be bedridden. I first played it off as a virus. It got worse. I had to quit a part-time job I had because no more than I would get to work, I would have to leave because I would get sick. The following week I was at my mother's house and I got sick beyond belief. I could barely move off of the bathroom floor. I couldn't stop vomiting. I was chilled, sweating, had a killer headache, and was a bit delirious. My step-father called other family members over to try and get me to go to the hospital, he was first going to call an ambulance. My husband, sister, and father all came over but I could not move from the bed to go to the hospital. I spent that night so sick that I couldn't vomit anymore, I dry heaved all night long. I never in my life felt like I was going to die like I did that day. I emailed my doctor the next day and he knew right away that it was that medication causing those effects and told me not to take another dose. The next couple of days I was still weak, but I slowly returned to normal as I stopped taking that particular med. I did not have another episode of the sort since, but my Crohn's immediately started to flare back up. I was now scared to death to start any more medications, but I also knew that I couldn't be productive with the flare ups I was having. My sister introduced me to a product called Alfa PXP. I was hesitant at first, I thought here I go again on one of these fad products that will do nothing for me. I was so wrong. Alfa PXP has changed my life. Since taking this product I no longer have flare ups and I am not on any meds!!!! This is the first time in 15 years that I have been off medications and have not had any flare ups. I have also been able to sleep like a baby, before I would always toss and turn throughout the night. Also, this past winter I fractured one of my vertebrae and was in intense pain. After taking PXP the fracture started to heal within a few weeks and the extreme pain I had from the fracture subsided after less than one week! Alfa PXP has changed my life!

Stacy Garza, Wisconsin USA
I've noticed skin tags disappearing, skin becoming softer, lines and wrinkles reducing considerably, energy levels off the charts (my energy levels have never been a problem), hair and nails have improved, wounds heal within 48 hours, sleep is deep and pain free etc. My sisters blood pressure dropped to levels that she hasn't seen in years, my other sisters shoulder injury is improving all the time, my other sisters skin condition disappeared but when she stopped, it returned. So she will never be without it again - not to mention the fact that she no longer nods off at work in the late afternoon.
Charlene Parsons - Taupo
A great testimonial for animal lovers....
Time I told everyone about my experiences with PXP. Jen (my wife) and I have been taking PXP for about 2 months or so. The results have surprised both of us. However the biggest and most pleasant surprise has been with the dogs. It has been very difficult to find a good quality dog food. Most commercial dog has a heap of preservatives which affects both dogs, to one degree or another (affects their skin and coat.) Their skin becomes itchy and irritated. One of the dogs had become very grumpy, unpredictable (he has bitten me at least twice and Jen about 4 times) and appears depressed (At this point, we were considering a trip to the vet, with no return ticket). I found a good dog food and put both dogs onto PXP. I gave them 1/2 a teaspoon very day. Within about 7 days their skin had started to change to a nice healthy pink colour, with the red hot spots starting to disappear. They also started to look more alert. After another 7 or so days, the difference was nothing short of amazing. Their skin was now a healthy pink colour, no red hot spots and heaps more alert and no more itching. You could just about see a twinkle in their eyes. Now 2 months later, the difference is nothing short of amazing. No more skin problems, no more eye problems and no more ear problems (1 of the dogs is an English Cocker Spaniel). The dogs are great. As for us. We both feel a lot more "with it" and are able to cope with stress, for me both mental and physical, heaps better. I could go on, but I think you get the idea. This product is amazing and we both continue to use. We both enjoy being well and feeling great.
Mark Frickleton – Waikane
Alpha PXP Royale - 150gm (30 serves)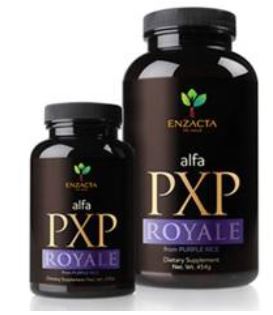 $ 140 NZD
1 lge teaspoon per day for general health, wellbeing & energy levels.
2 lge teaspoons per day for chronic issues and illnesses.
3-6 teaspoons per day for severe or life threatening issues.
Alpha PXP Royale - 450gm (90 serves)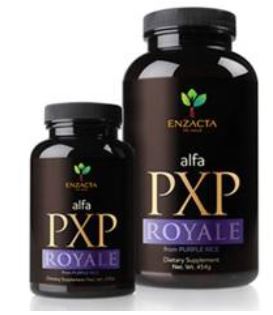 $ 250 NZD
1 lge teaspoon per day for general health, wellbeing & energy levels.
2 lge teaspoons per day for chronic issues and illnesses.
3-6 teaspoons per day for severe or life threatening issues.